THE COSTA DE AZAHAR PRESENTS A DIVERGED AND PRIVILEGED ENVIRONMENT
Much more than sun and beaches
Through the Vía Verde (Greenway) between Oropesa and Benicàssim you will be able to enjoy the coast skyline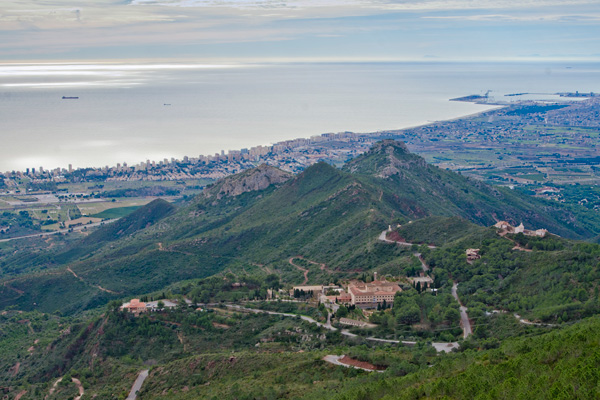 The Mediterranean pine woods are as beautiful as the quiet coves in Oropesa and Benicàssim. These nice views can be enjoyed from both the vantage point in the Desierto de las Palmas and from the Greenway's Zero mile – two great hiking routes.
If you wish to enjoy the view from a higher point, a short trip to Castellón highest peak, Penyagolosa, will also allow you to visit the province inland towns.
If you prefer water sports, you can choose from a range of sailing schools in Oropesa and Benicàssim, where you will be able to practice light sail, canoeing and windsurf, among others.
Other options include relaxing and enjoying the cuisine that the Costa de Azahar offers. You will be able to choose from eating paella at the seaside, drinking horchata (tigernut milk) in a beach bar or you can simply sunbathe in one of our Blue Flag beaches.
The serenity of the mountain
The Desert de les Palmes Nature Reserve can be found in a mountain range running parallel to the coast. Several remarkable peaks such as Les Agulles de Santa Àgueda, Les Santes and la Sierra del desierto can be seen from the sea.
The pleasure of the sea
You will be able to enjoy the nature and tranquility in its fullness from the discreet coves located on the coast between Benicàssim and Oropesa, such as La Renegà, les Platgetes and el Retor.
If you prefer bigger beaches, you can choose from Les Amplaries, La Concha and Morro de Gos. These Blue Flag beaches offer fine sand and they are accessible for people with reduced mobility.